Blog Post
What should B2B marketers focus on in 2023?
Publish date: Jan 15, 2023
|
Reading time: minute

s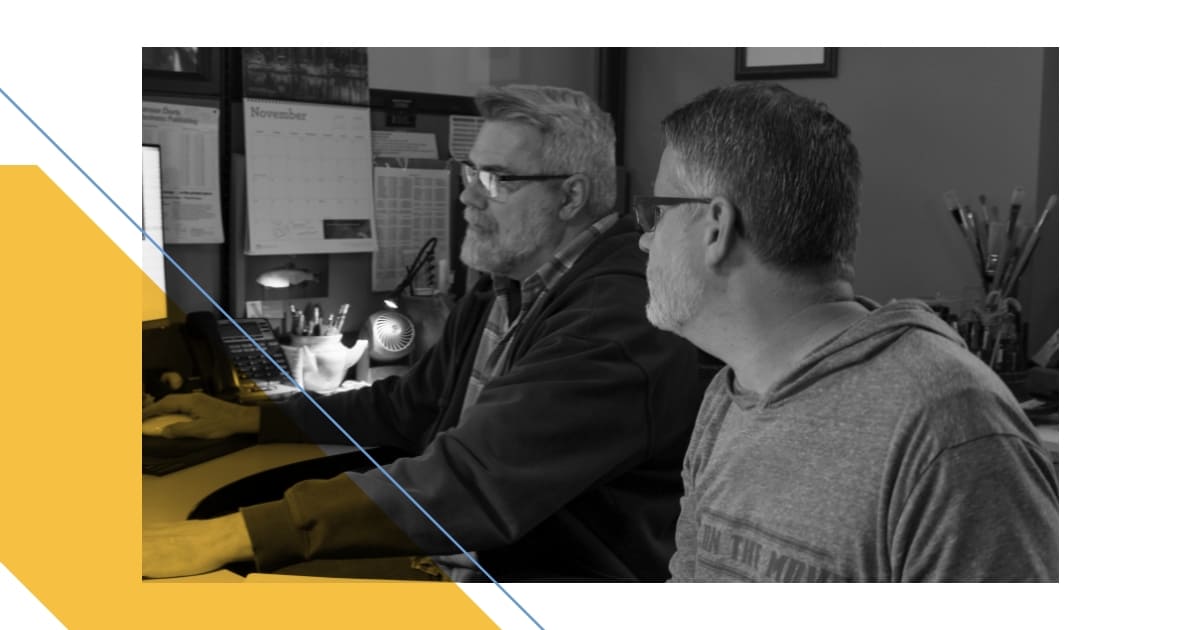 Marketing to complex industries is, well, complex. And heading into a year where the economic forecast both in the U.S. and globally looks to be uncertain, how can industrial marketers plan and make best use of their resources? We have a few ideas based on current trends and general B2B marketing best practices.
1) Make a plan but build in adaptability.
The business world continues to change and evolve at an exponential rate. And some marketers have adopted more of a reactionary approach to their marketing plans. One lingering effect of the pandemic is how teams got used to reacting to the now, and there has been an unfortunate shift away from producing an annual plan. While there are certainly advantages to being agile, the short-term mindset has many B2B marketers simply jumping from one trade show to the next product launch without much strategy.
Our best advice for any B2B marketer in a complex industry is to build an annual plan that is based on information and data currently available. An annual plan should outline your goals, strategies and tactics. It should also allow for and have a built-in review cycle to ensure you are adjusting to results and changes in the marketplace. Global economic forecasts have plenty of unknowns and mixed signals heading into 2023; a plan with built-in adaptability provides a better foundation for making pivots as market conditions change.
2) Remove the friction for customers.
As you make your plans, it is important to think about how to build customer experiences that resonate with a younger generation of B2B buyers. Millennials and Gen Zers are looking for a frictionless experience. As we shared in a previous post, making it as easy as possible to get the information needed at all stages of the buying cycle should be top priority. As this eMarketer graphic shows, a younger generation is looking to self-educate and gather its own information before engaging with a sales rep.
And it is worth noting that the self-serve buyers of today are looking beyond Google and company websites. This HubSpot study was not specific to B2B but shows that close to 60% of Gen Zers are using social media channels to discover products. And 1 in 4 Millennials have contacted a brand on social media for customer service. B2B companies, even in complex industries, need to find ways to make it easy to engage throughout the buying process.
2023 will also be a year where B2B companies should continue to focus on customer retention efforts. The continued pain in some industries from supply chain issues and price hikes due to inflation make it even more important to show your customers some appreciation. Marketing leaders can certainly lend support in helping craft and deploy brand-appropriate communications around these topics.
3) Embrace content marketing.
In 2022 we saw B2B marketers continue to focus on generating high-quality, informational content. While this is by no means a groundbreaking trend, having a clear content strategy that addresses the various types of buyer needs is a foundational B2B best practice. Taking a look at the different stages of the customer journey to map out content and goals is one way to approach your annual plan. This can help ensure you are not overly emphasizing any one area. It also helps to balance brand messaging (which drives long-term results) and demand generation (which drives short-term results). Both are important, even in times of economic uncertainty.
We have mapped this out using the well-known funnel, simply to demonstrate that there should be varying types of content and channels considered for each stage.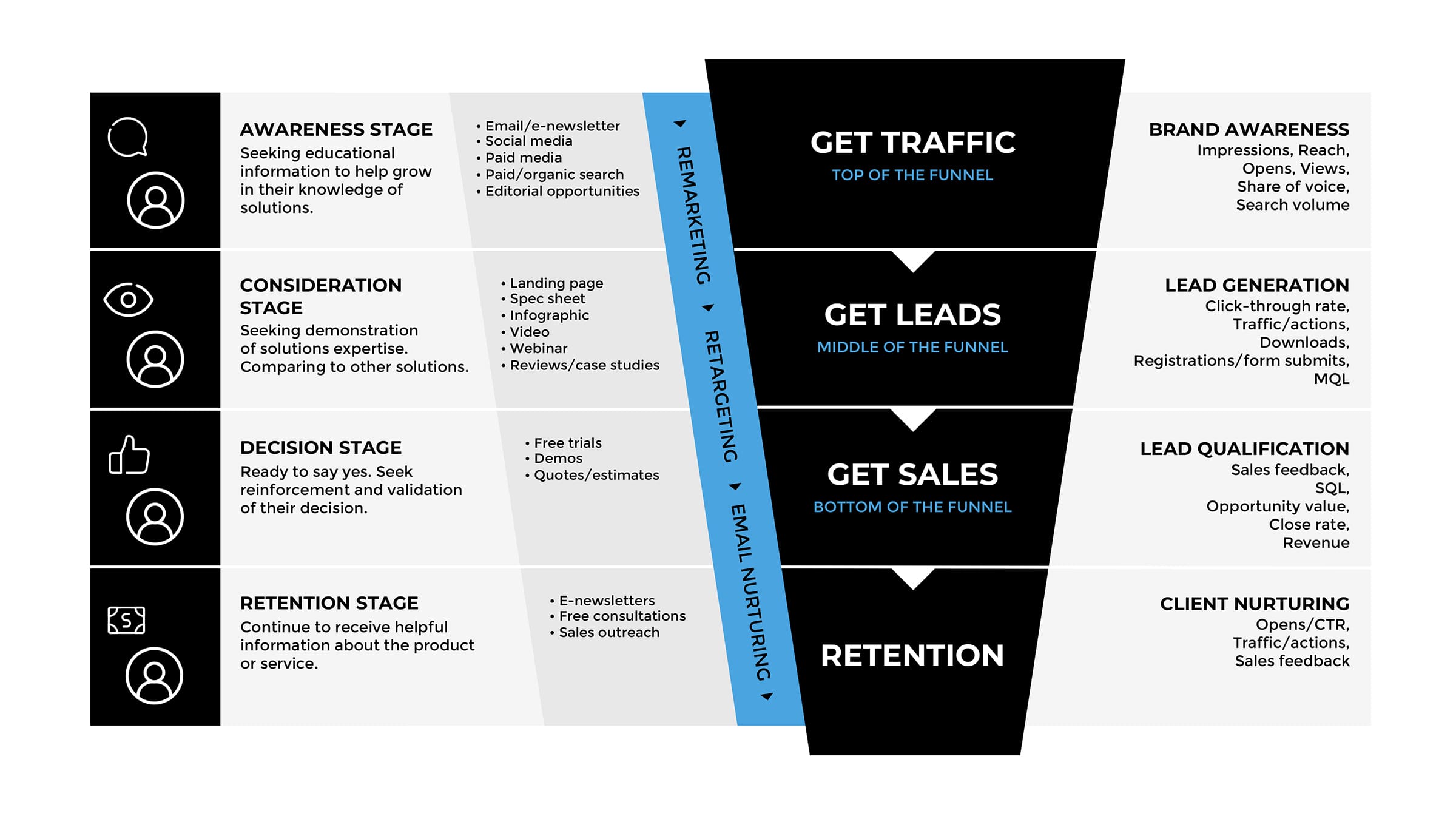 In terms of the types of content B2B brands should be creating in 2023, the trend toward more video, primarily short-form video, will continue to see growth. There are so many opportunities for marketers in complex industries to use video to demonstrate technical applications in creative ways. Social media content will also continue to grow in importance as noted earlier. Creating engaging posts that use audio, including polls/questions and being topical are a few ways B2B marketers can up their game.
4) Get your data in order.
If economic/business conditions continue to decline, many marketers will be asked to evaluate their budgets. There are many studies providing rationales for not cutting marketing budgets, but if those arguments don't work, having data that demonstrates what is producing results in your marketing efforts is key to making informed decisions. If you have not already, make sure you are building a strong foundation of data and have metrics readily available.
Also on the data front, if you use Google Analytics and have not already started the migration to Google Analytics 4, now is the time to get a plan in place. On July 1, 2023, standard Universal Analytics (Google Analytics 360) properties will no longer process data. New data will only flow into Google Analytics 4 properties. In order for traffic, key events and goals to continue to track properly, updates need to be made to the current analytics setup on their main website property.
Our prediction for 2023 is that B2B marketers in complex industries will need to continue to navigate a business landscape that is sending mixed signals. From a tight labor market to predictions of a recession — it will be another interesting year. But we believe marketing teams that do annual planning, make it easy for customers, embrace content marketing and are data-driven will achieve strong results.
Stacy Whisel - President
Stacy serves as Godfrey's president and also oversees the channels and operations side of the agency. Her background in research and media is a key driver for ensuring Godfrey implements audience-focused programs.