Blog Post
FWD:B2B Conference helps B2B marketers connect with customers throughout the buying journey
Publish date: Nov 13, 2015
|
Reading time: minute

s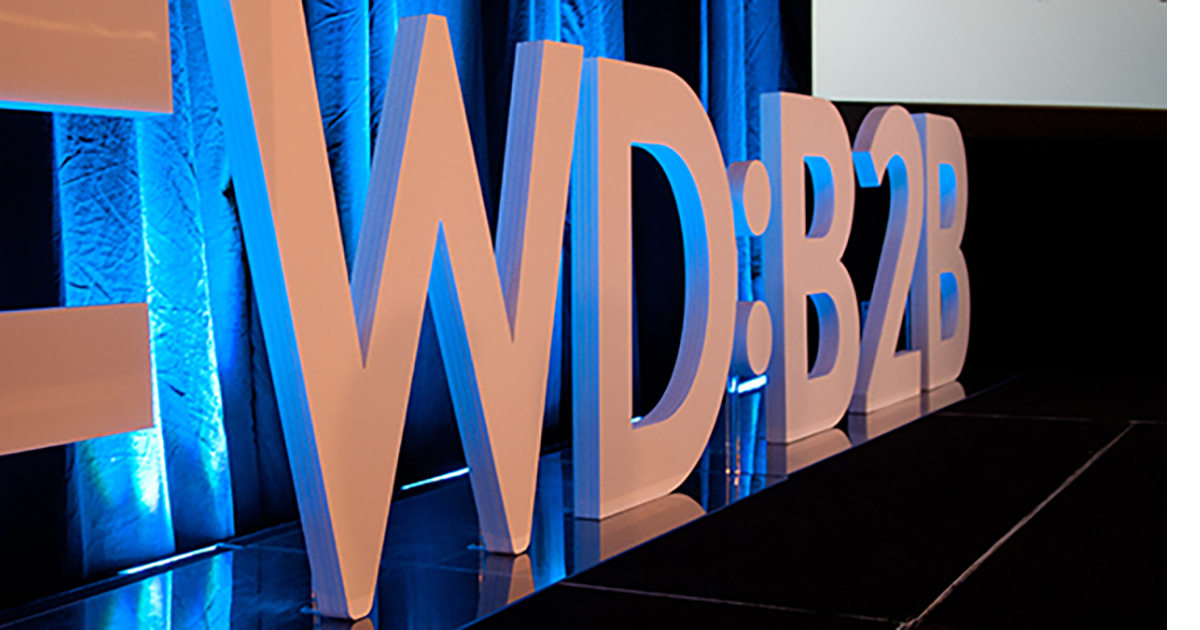 The FWD:B2B Conference gave 171 attendees advice and expertise on using stories and technologies to engage with customers throughout their buying journey.
The FWD:B2B Conference held in Phoenixville, PA on November 5 gave the 171 attendees an intensive dose of advice and expertise on storytelling, the customer journey and more. Presented jointly by BMA Philly and Godfrey, the conference and technology fair featured industry leaders sharing their experiences in using compelling stories and digital technologies to connect and engage with their customers throughout the buying journey.
Rob Biesenbach got things off to a dynamic start with insights from his 25 years in business combined with his Second City training as an actor. A former vice president at Ogilvy PR, Rob shared examples from the worlds of business and entertainment to illustrate the important science behind the power of storytelling, three key ingredients necessary in a successful story, advice for cutting clutter from stories and tips to help you deliver stories more effectively.
And where are B2B buyers engaging with your stories and brand? Tim Freeth, Head of Industry for Business and Industrial Markets for Google, answered that question when he shared B2B-specific findings of Google's groundbreaking research on "micro-moments," when someone turns to digital to act on a momentary need – a need to learn, do, discover or buy. More and more B2B buyers are doing that on a mobile device. The main topics from Google's research are that brand discovery has changed, deeper research has adapted for mobile and video has the proven power to influence decision-making in B2B.
Conference attendees also got a better understanding of how to reach those buyers through content. Laura Patterson of VisionEdge Marketing presented "pipeline engineering" which showed how to sync content to the customer buying process. She urged B2B marketers to develop a "customer-centric opportunity pipeline" based on the customer's buying process. Then you can overlay the various touchpoints, preferred channels and actual content; use an opportunity scoring model to create performance targets and measure results to those targets.
This session paired well with the next one from Katie Martell, Co-Founder and CMO of Cintell, who reinforced how important it is to understand your customer and be their advocate. She cited a survey of marketers that listed "understanding buyers" as their number-one job responsibility in 2016. While customer personas have been in vogue for several years, Katie explained that 85 percent of marketers aren't using buyer personas effectively and then demonstrated how personas can be used as actionable tools to drive real results companywide.
Jon Miller, CEO of Engagio, introduced the "next big thing" in B2B marketing – Account-based Marketing (ABM). He defined it as strategic, personalized and collaborative between sales and marketing, and drew compelling distinctions between ABM and traditional marketing communications. He provided a good primer on ABM and suggested five key metrics relating to customer engagement and program performance.
After several strategy-focused sessions, Paul Gillin, a well-known author, columnist and blogger, got right into the tactics on channel-specific advice when writing for social networks. He provided an entertaining and incisive look at how to "Create Stuff They've Just Gotta Read: How to Write for Social Networks." Paul kicked things off with a harangue at high volume about the foibles of business writing that got the audience laughing in agreement. And he brought it back to the topic at hand by looking at best practices for communicating on Facebook, Twitter and LinkedIn.
The conference concluded with Suzanne Lavin, the Executive Director of The Institute for the Study of Business Markets, sharing the effectiveness of building "Visual Storytelling" into your marketing efforts. Suzanne used a case history from her tenure at UL to show how to balance the power of story with the tools and techniques that our digital landscape affords. Her case study included the important internal communications used to launch an enhancement of UL's prestigious mark in addition to outbound marketing communications.
The day's sessions resonated with the B2B marketers in attendance, many of whom expressed similar takeaways around the ideas of cutting through the clutter and really connecting with their customers. They were in agreement that, heading into 2016, it's never been more important to understand your buyer so you can provide them with information – in the form of compelling stories – that connects with them throughout their decision journey.
Stacy Whisel - President
Stacy serves as Godfrey's president and also oversees the channels and operations side of the agency. Her background in research and media is a key driver for ensuring Godfrey implements audience-focused programs.