Blog Post
4 Great Gifts for B2B Customers, No Matter the Season
Publish date: Feb 07, 2020
|
Reading time: minute

s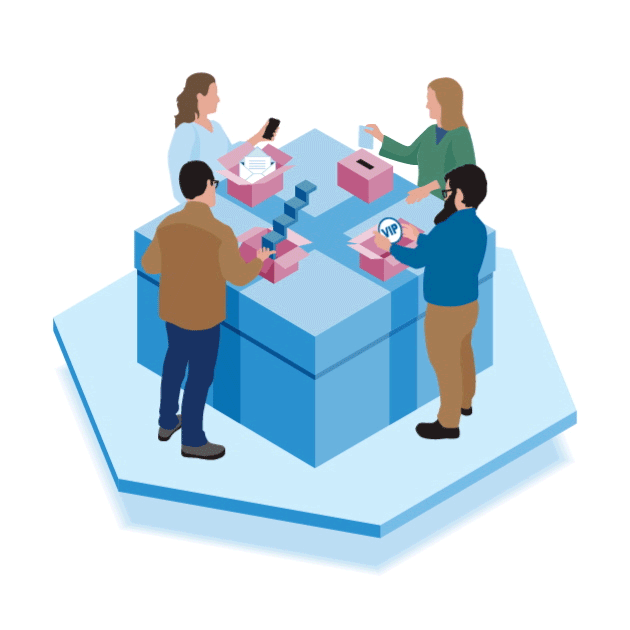 Don't wait until the holidays to show your new and existing customers that you are invested in their success.
The holidays seem like a natural time to consider thanking your B2B customers with a tin of cookies or a cute card featuring a picture of your team. And those aren't bad things to do at all (feel free to send as many tins of cookies as you like, honestly), but thanking your customers shouldn't be limited to a single season. Here are a few ways you can give "gifts" to your B2B customers throughout the year — and build stronger relationships at the same time. And this is more than just feel-good chatter: The Rockefeller Corporation found that around 82% of customers will leave because they feel like they aren't cared for.
1. Check in (beyond status updates)
The weekly check-in. The quarterly review. These are essential for maintaining a good relationship with customers but should be considered the starting point of a strong relationship. One of the easiest gifts to give your B2B customers is your attention and time. An open line of communication is more than a convenience. It leads to mutual problem-solving. B2B is person-to-person, and people need to talk.
Opening yourself up to even a 15-minute "how's it going" call here and there may lead to discovery of new challenges or needs. Plus, it gives your customers a chance to see you as more than a product, but as a person, too.
2. Make suggestions
If you have a particularly busy customer (congrats, by the way), it might feel like all you need to do in order to keep them happy is to fulfill whatever requests come your way. And you're not wrong — but you could be doing more. Offering up suggestions for a new direction or new use cases for products helps your customers think outside of the everyday. Your suggestions don't have to be grand plans, either. Sometimes small suggestions can have a big impact. Point them to videos or websites that have valuable info. Share new innovations or developments in the industry. Show that you're doing more than just taking orders — you're actively investing in growing their business.
Chances are you're already doing this a bit but making it an active priority takes some of the pressure off your customers to always be looking for the next big thing. Instead, they can look to you. And that's a great gift to give.
3. Remind customers what's possible
Long-time customers are often overlooked during expansion and growth. This is even more true if those customers aren't complaining or singing your praises. But that doesn't mean you can assume "silent" customers are content. A valuable gift to give your long-time customers are reminders of what your product or services are capable of. Remember: Not everyone is a power user. Making quick videos or infographics of what's possible is a useful way to reintroduce customers to why they chose you in the first place. This is especially important if there is very little opportunity to engage with your customers in a one-on-one way.
Simply sending an email or posting a tip or two shows that you're not only interested in the sale. You're interested in helping customers do their best work. That's a differentiator that brings more customers to you and keeps the one you have happy.
4. Make your B2B customers into B2B insiders
Most people like being part of something, and this is your chance to invite customers to become part of your club. Creating opportunities for existing customers to find out about new products or announcements before everyone else is a great way of showing that you value their opinions and business.
What does this look like? It can be a simple newsletter that shares personal interviews with key people in your own organization and sneak peeks. Or it could be a periodic email, only deployed when you want to inform your customers of a new resource (Like any of the ones you can find here). The point of creating the "insider" group is more about making your customers feel like your relationship goes beyond the sale. It creates an avenue for continued communication and interaction.
Providing value outside of sales is the gift that keeps on giving
These four little gifts are relatively easy to implement and grow, providing both you and your B2B customers with even more value. Whether you're already doing some of these and need to refresh the effort or you haven't considered any of them at all, these touchpoints and added-value efforts go a long way in putting you ahead of competitors in the eyes of customers. As with any gift, it's the thought that counts most — and these gifts show your customers that you're thinking about how to help them all year long.
Matthew Kabik - Senior Copywriter
Matt helps B2B brands develop and tell compelling stories that connect with their audiences.