Blog Post
Employee Advocacy: The Secret to Amplifying Your B2B Social Presence
Publish date: Oct 05, 2017
|
Reading time: minute

s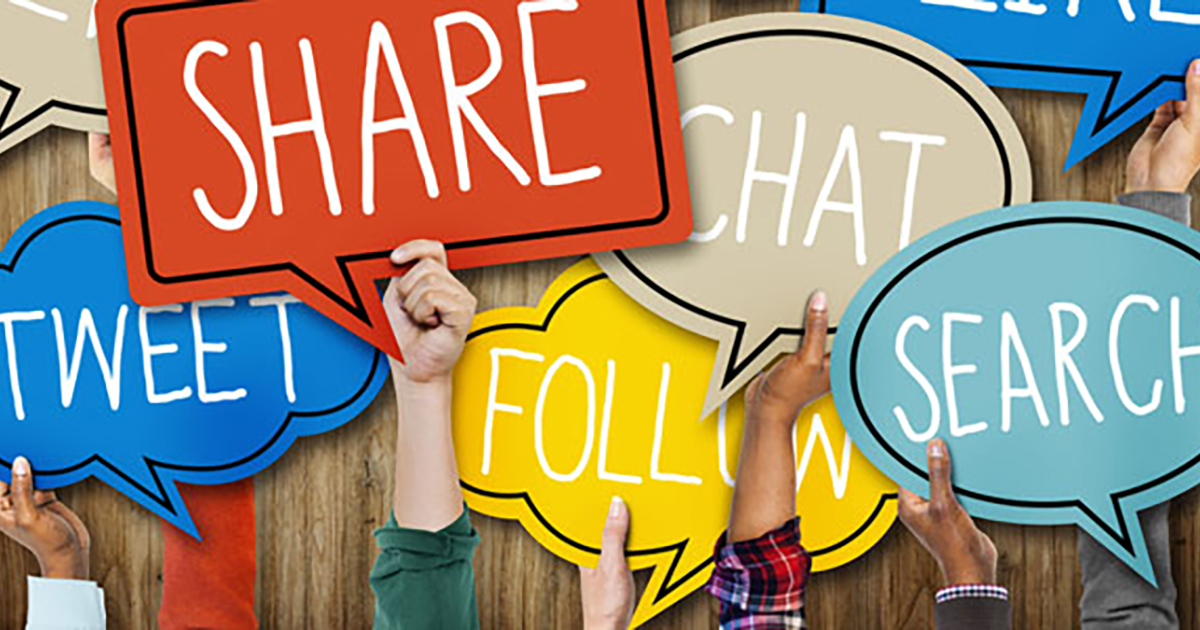 Looking to give your social media posts a lift? Employees can be one of your greatest assets. Our tips will help you get started.
Congratulations! Your B2B social media program is firing on all cylinders. You've done your due diligence— homed in on your personas, set goals and objectives, audited the landscape, set your KPIs and created a sound strategy. Your editorial calendar is populated a month in advance. You even have a hashtag strategy! And, just for fun, let's throw in a content marketing plan, too.
See? Social media isn't that daunting. You're in the groove now. Your profiles are all up to date. You're a pro at using HootSuite. And you're monitoring your accounts daily. Even your paid social efforts align nicely with your campaigns and your calendar. But for some reason, you're still not seeing an increase in followers or engagement for that matter.
Or, let's paint a brighter picture. You are seeing a steady increase in followers and interactions. You're reviewing the analytics and optimizing monthly. Yet, your trajectory of hitting your goals for the year is still down. Now you're stumped. You may be thinking, "What more can I do to turn a corner?
From tweets to links, shares to likes, social media doesn't have to be complicated to be successful. Download our guide for quick tips and key insights on making the most of your B2B social media presence.
Get Your Employees on Board
Employees are an added bonus to help amplify your social media efforts. Here's a short scenario: LinkedIn is such an important platform for B2B companies. If you've got sales managers working for you, then LinkedIn is most likely a useful resource for them. However, their connections may not be following your actual company page. A simple click or tap of the "share" button on a post increases that post's reach. Now imagine if all (or even a select handful) of your employees on LinkedIn shared your posts. That's a lot of reach for one simple click or tap!
Dust Off that Social Media Policy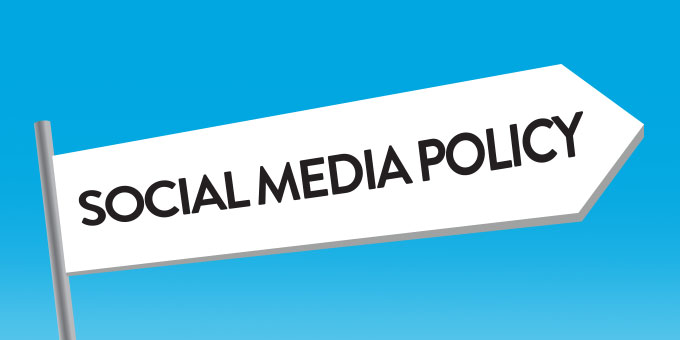 Before you roll out such an initiative, you'll want to take a look at your social media policy. And if you don't have one, now's the perfect time to create one. You want your employees to feel empowered to share company posts and participate on social media. As long as they know the parameters with which to interact, the more comfortable they'll feel. Setting an even better example would be getting your CEO on board — writing their own posts and sharing company posts as well.
Here are some guidelines to consider including in your social media policy:
your company's social media strategy so employees can understand the purpose for having a social presence
the channels you're using and the audiences you're targeting
who's authorized to post on the company's behalf
a process or criteria for employees who want to contribute ideas
direction for employees who follow the company's social profiles and how you want them to interact (for example, sharing content being published to those channels via their own personal profiles)
Remind your employees that they're ambassadors of your company and should conduct themselves according to the standards you put forth.
Training is Key
Not everyone will be comfortable using social media. Some people may not have profiles or, if they do, maybe they're not very active. In addition to your social media policy, you should also create an accompanying set of guidelines that instructs employees on how to update their profiles and how to use them on behalf of the company, including things like conveying appropriate tone, being respectful, not sharing proprietary information, etc. Create "how-to" guides (and/or videos) that make it easy for employees to engage on social media.
Ideas for Employee Advocacy Training Videos and Guides
What is Social Advocacy? (importance of maintaining a professional brand online and how their presence helps the company)
How to Build Your LinkedIn Network (following brands/influencers/competitors, connecting with colleagues, peers)
Quick Tip: Optimizing Your LinkedIn Profile
How to Build Your Twitter Network (following brands, influencers, competitors, liking, retweeting posts)
Quick Tip: Using Twitter Hashtags
Sharing Company Content on Your Own Social Channels
Quick Tip: Engaging with Others and Sharing Content (interacting with accounts beyond your company and sharing posts, building relationships)
Post Inspiration: Finding Topics, Sharing Ideas
If you don't want to do a company-wide rollout, start with a pilot group of employee advocates who you've identified as "social media power users." You may want to consider providing incentives to encourage participation.
Quick Wins to Get Employees Started
Update email signatures with links to all social profiles
Encourage liking, sharing of posts
Encourage employees to follow people, organizations and similar accounts and share their relevant posts. When you start engaging with others, they'll be more likely to follow you back, expanding the reach of the content you're sharing.
Employees can be your biggest and greatest assets on social media. If they're liking, sharing and engaging with your content, they're broadening reach while strengthening your brand. So, encourage your employees to participate in ways that align with your company.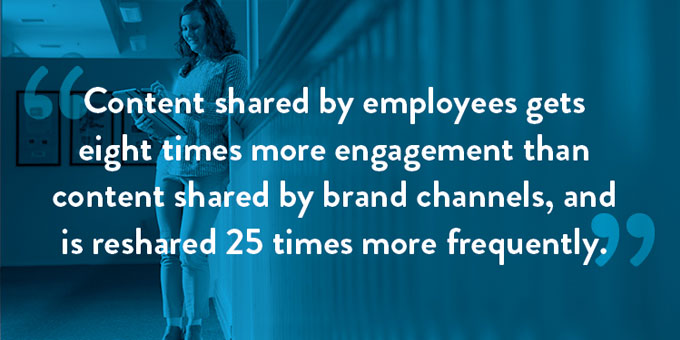 Source: Fast Company
Godfrey Team
Godfrey helps complex B2B industries tell their stories in ways that delight their customers.