Blog Post
How Engineers Make a Purchase – Supporting and Energizing the Customer Journey
Publish date: Aug 11, 2016
|
Reading time: minute

s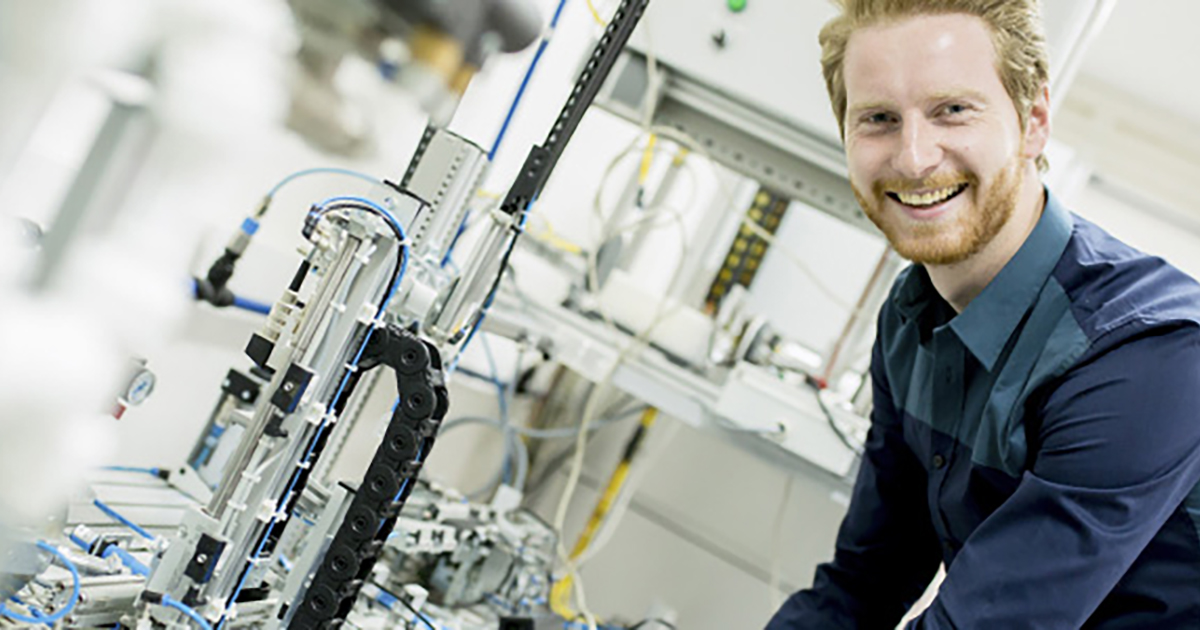 B2B purchasing has increasingly become a team sport, with lots of different players joining in at various stages of the process. We highlight the people involved and provide examples of how their buyer's journey aligns to their needs.
How exactly do engineers go about making a purchase? How do engineers buy? We highlight the people involved and provide examples of how their buyer's journey aligns to their needs.
Godfrey partnered with AMG Research to study an emerging segment of your audience. Download the full report and view slides from the presentation we delivered at CFE Media's 2017 Marketing to Engineers® event.
THEY MOVE IN PACKS
B2B purchasing has increasingly become a team sport, with lots of different players joining in at various stages of the process. For example, an OEM purchase of a new component or technology may involve representatives from purchasing, sales, product management, operations and even marketing. If it involves a significant capital investment, approval by senior management or ownership may be needed.
THEY'RE DOING MORE RESEARCH THAN EVER BEFORE
Making the process more challenging, the B2B buying journey is more self-directed. Long gone are the days when a sales rep controlled the process and fed customers the information he or she thought they needed, when they needed it. Buyers want to conduct their own initial research, often before sales and marketing even know they are interested.
In fact, research from the CEB Customer Purchase Research Survey indicates that the average B2B buyer is 57 percent of the way through their decision-making process before engaging a supplier sales rep.
THE JOURNEY IS LONG AND UNPREDICTABLE
In the "considered purchase" environment of B2B, the buying process can take longer – up to two years in some cases. All of these players have their own information needs and learning styles. So the process has become more complicated than ever. But maybe the big picture will make things a bit more manageable.
THE PLAYERS
For example, the chart belowshows the key players in the automation and controls space during the buying process at the institutional level. On the individual level, each of these "players" may contain multiple players of their own – like the sales, product management and manufacturing professionals that make up the OEM team.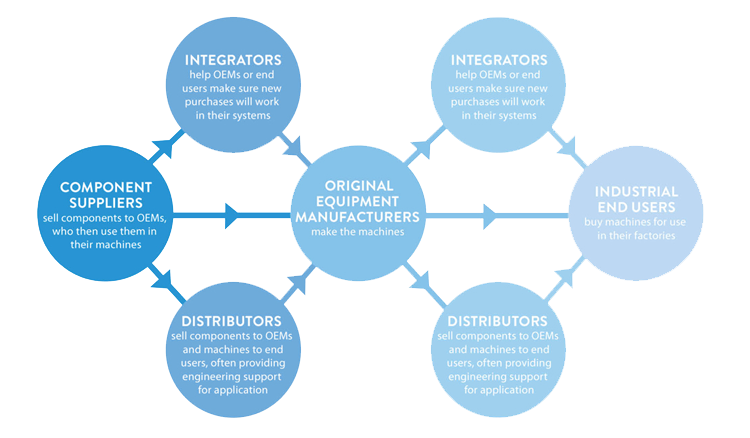 THE PATH
The typical customer journey is rarely a straight line. Instead you must help customers navigate a winding path as our buyers bounce back and forth throughout the process.

HOW THE JOURNEY PLAYS OUT
For an OEM, the process may start as a marketing challenge. Let's say, for instance, a design engineer is envisioning a new generation of plastics machines. And he or she is hearing all the talk about smart factories and Industry 4.0 (I4.0) and the Industrial Internet of Things (IIoT). The sales team says the competition is coming out with a connected "Smart Plastics Machine" that allows remote diagnostics, and he or she is charged with meeting that challenge.
So in the awareness phase, the design engineers will do searches on I4.0, IIoT and the like. They will probably start with articles from broad design engineering publications like Machine Design, where they may see some ads. In the research and discovery phase, they may visit some industry forums where they can see how other engineers are tackling these problems. They may visit the websites of a few likely suppliers, perhaps downloading a video or white paper. Or look them up at a trade show.
In the qualification phase, they may look at a case history, or download printed literature or e-books, deepening their knowledge and beginning to sketch out the outlines of a solution. As they get closer to a solution, they may access suppliers' CAD files to experiment with how different solutions fit an existing machine footprint. And when they finally get to the purchase phase, only then will they be entertaining sales reps' presentations and checking out their finalists on social media.
THE MARKETER HAS A ROLE
So that's the way things happen. Except that they happen differently for every buyer. Marketers must be thinking constantly about the buyer's journey, considering all the possible places that prospects and customers may go for answers and developing the materials they need to advance through the process.
Learn more about how engineers make a purchase. Download our free essential guide about Marketing to Engineers.
Todd Walter - Senior Public Relations Manager
During his 25+ year career in public relations and marketing, Todd has worked in both the corporate and agency environments. He has worked with leading consumer brands, as well as many B2B companies in automation, component manufacturing, chemicals, HVAC, biopharmaceuticals and more.