Blog Post
Industry Spotlight: Digital Transformation in Automation
Publish date: Jul 12, 2019
|
Reading time: minute

s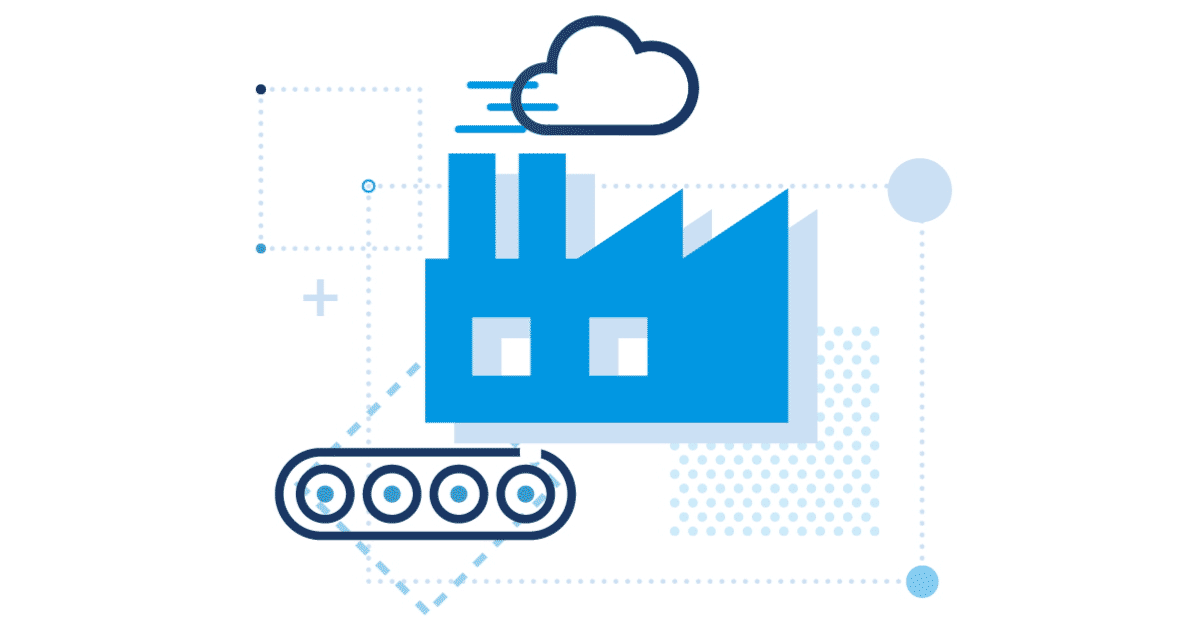 Welcome to our next installment of Industry Spotlights, where we delve into trends in the specific industries we serve and share what B2B marketers need to know about how trends could impact marketing strategies.
As director of strategy at Godfrey, I spend part of my day diving into the trends and challenges that affect our clients — their products, markets and audiences. In this post, I share how digital transformation and the Industrial Internet of Things (IIoT) affect companies and key decision makers in the automation space.
What are some challenges within the automation and industrial manufacturing markets?
Challenges in automation and industrial manufacturing have been consistent over the past few years, yet the urgency to solve those challenges has become more intense. These include the aging manufacturing facilities and the workforce that serves them, increased customer demands and digital transformation driving company roadmaps.
Goals in automation have consistently centered around cost reduction, improved productivity, efficiency and uptime, which are now being driven by digital transformation. But as the workforce evolves and technology becomes the foundation for operational strategy, the technology is often outpacing the skills of the workforce, requiring a dedication to training and skills development. It also brings new players to the decision-making process. Back in 2017, Godfrey conducted research with partner AMG Research to evaluate how the role of IT was working its way into operations conversations, along with challenges around internal structure, security and scale.
Expectations around the implementation of connected devices and the Internet of Things driving business value are high. But change is hard. Team dynamics are changing; business models are even changing. Traditional manufacturers are exploring SaaS models, performance-based contracts and other methods to generate revenue from more than just products and systems, in order to position themselves as a long-term partner and tap into additional revenue streams. So as marketers, we are being asked to evolve the industry perception of some companies, align their brand with a digital future and to encourage creating user experiences that let their customers know they get it and are investing in it themselves.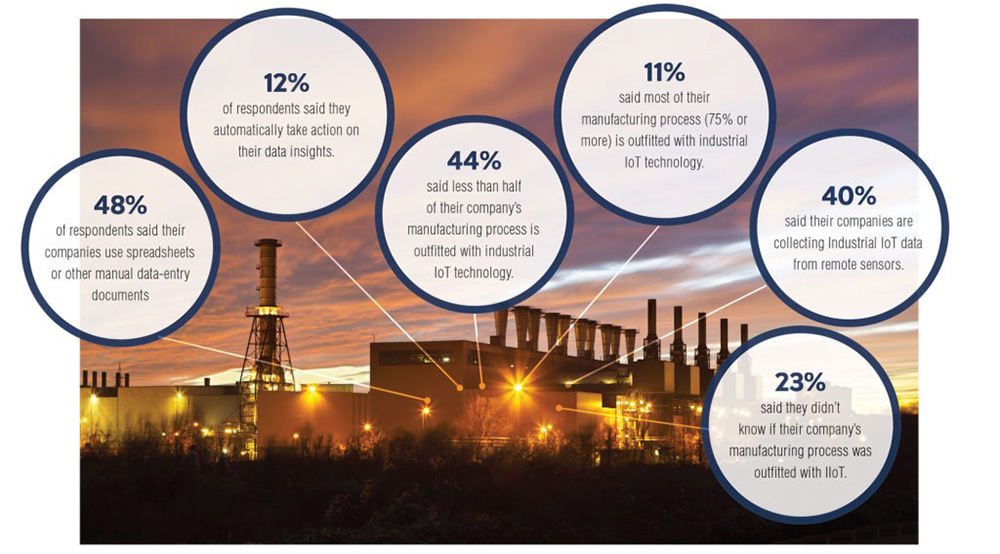 Digital Transformation? 'Slo-Mo' is the Word, Efficient Plant, March 2019.
What are some trends in this market, and how might they affect businesses this year?
Trends are certainly centered around how technology can show real value for manufacturers and their customers. As a marketer, I'm seeing the phrase "digital transformation" in trade publications, company communications and third-party research as much as the phrase "innovative solutions" in years past. It is a buzz word that is losing impact due to overuse, as manufacturers understand they need to be part of the conversation. An Automation World article, "Industrials Must Shift Gears on IIoT," explains that industrial transformation is a more accurate phrase, meaning "the proactive and coordinated approach companies use to leverage digital technologies to create step-change improvement industrial operations." This translates to a manufacturer's ability to deliver connectivity, flexibility and increased customization for its customers.
Customer-buying behavior, distribution and business models are also changing. Manufacturers need to be able to deliver a digital experience that serves their customers outside of the sales call. As stated in a recent report by Gartner, "most B2B manufacturers are struggling to build the digital marketing strategies and purchase guidance needed to help buyers make the most informed decisions."
In a ranking of digital performance among B2B manufacturing brands, the analysis reported that 62% of these brands fell below average. "If B2B marketers can't get digital marketing right, they could seriously jeopardize the success of their company's future digital business strategies, or worse, fail to protect themselves against looming competitive threats."
What are some industry opportunities for the industrial automation space?
The data-driven mindset has permeated all industries and for industrial automation, this mindset is making an impact on every aspect of an operation, from maintenance to safety to supply chain. The opportunities are endless. Being able to capitalize on them relies on a commitment to digital adoption and the ability of operations to overcome barriers to create an undeniable competitive edge.
Modern Materials Handling published a report by Transparency Market Research stating that the global IIoT market will attain a value of $991 billion by the end of 2026. They also cited that "major cybersecurity concerns are hampering IIoT adoption and are likely to restrain the growth of the global market. Lack of skilled workers and standardization in procedures are also restraining growth." Some other barriers were outlined in the 2017 MHI Industry report: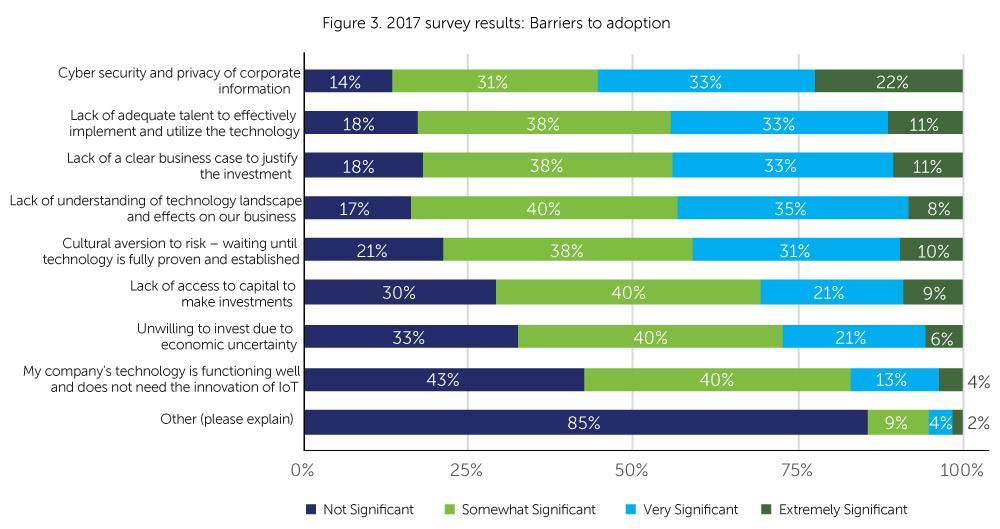 All of these technologies and the promise of ultimate productivity is competing for your customer's attention and resources. Despite the benefits and projected investments, these barriers are a reality that manufacturers can face together with their customers in order to achieve success. There can be room for everyone in this emerging market ⁠— late adopters can learn from the case studies of early adopters and align their plans with best practices. Early adopters are driving competitive advantages and the value they can provide to their customers today.
How will these factors affect marketing in this industry?
Many industry players are providing the service, support and technology to make a difference for their customers, and it is generally accepted that the adoption of advanced technology is necessary in order to stay competitive. For some time, the value of IoT in industrial manufacturing and automation was limited, but the use cases and value are proven, making it undeniable.
The challenge for companies is to break through the noise and communicate in a clear and compelling way how their IoT solutions provide proven, real results for their customers as well as continuing to tell these stories, showing the value and motivating the audience to take the next steps toward adoption. Companies need to work with the sales team so the message is consistent and so they have the tools they need to invest in driving longer, more complex sales.
The stakeholder group has grown, too. There are now five or more people involved from engineering to purchasing to operations and finance. And we know IT's influence is growing as systems become more connected. Each audience member has different concerns. Segmentation and personalization throughout the journey to purchase is no longer nice to have. It's a business imperative.
Download the full report and view slides from the presentation we delivered at CFE Media's Marketing to Engineers® event.
Alison Fetterman - Vice President, Strategy & Analytics
Alison leads the strategy and analytics teams, focused on driving insightful and innovative ways to connect with clients' audiences and clearly show a strong ROI for Godfrey's B2B marketing programs.